At The Sienna Grille, we have a tradition of good food served right. We are a favorite for holiday parties, business dinners, rehearsal dinners, weddings, birthdays, and anniversaries. Whatever type of event you're planning. The Grille will create a menu that is just right for you and your budget. We can host your party here in the restaurant, or we will go off-site to cater at your location. Please be advised that certain off-site facility constraints, such as the lack of kitchen, will affect what we can serve.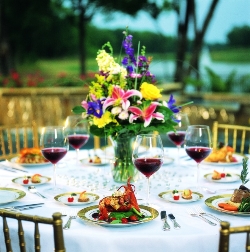 When you choose The Grille, your event starts with a personal appointment with a member of our staff. We ensure that entire staff will make sure your food looks and tastes as special as your event demands and your guests deserve.
If your special occasion requires special handling, special requests, special time and care, then look to the staff at The Grille to handle all your catering needs. We want to provide you with exactly what you have in mind.
Besides the finest food presented in an elegant, unpretentious style. The Grille can provide complete staff and service from casual to white glove and a full complement of equipment from flatware to furniture.
We also offer a full bar. The Grille's complete list of wine, beer, champagne, and mixed drinks (host or no-host). Our ultimate goal is to exceed your expectations and to make your event pleasurable - to plan and attend.
Call us at 281-778-GOLF for more information.